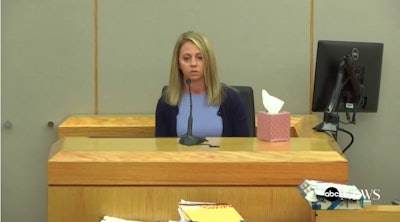 Amber Guyger—a former officer with the Dallas Police Department—has been found guilty of murder by a jury that deliberated less than 24 hours after a weeklong trial.
"We the jury unanimously find the defendant, Amber Guyger, guilty of murder as charged in the indictment," Judge Tammy Kemp read in court on Tuesday.
Guyger, 31, fatally shot 26-year-old Botham Jean in his apartment last year. She had said she mistook his apartment for her own and thought Jean was a burglar.
According to ABC News, Guyger's defense attorneys said that she made "reasonable" mistakes that led her to believe her life was in jeopardy when she shot Botham Jean as he reportedly sat on his couch eating ice cream.
During closing arguments, prosecutor Jason Fine with the Dallas County District Attorney's Office said, "This case is all about what is reasonable and what is absurd."
Guyger contends that she believed she was in her own apartment and that she feared for her life at the time of the shooting.
Guyger initially was charged with manslaughter for the 2018 shooting. Soon thereafter, a grand jury indicted her on a murder charge.
Testimony in the punishment phase of Guyger's trial will proceed this afternoon, with another round of jury deliberations to come after that. In Texas, murder carries a sentence of five to 99 years or life in prison. The charge is not eligible for probation, the Dallas Morning News reports.