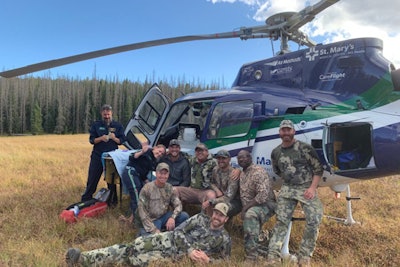 Four off-duty deputies with the El Paso County (CO) Sheriff's Office were enjoying a day of hunting in rural Colorado when they encountered a fellow outdoorsman who had accidentally injured himself with a knife.
The agency posted on Facebook the story of Deputies Scott Brettell, Chad Wheat, and Peter Gaffney (Ret.), and Lieutenant Eric Carnell receiving word that an Arkansas man named Mason Young suffering a knife wound.
The four LEOs—along with two spouses who were trained in emergency medicine—set out to find the injured hunter. They soon located his ATV.
The agency said on Facebook, "Deputies Brettell and Wheat put themselves in a hunter's mindset and headed in a direction they felt they too would go if they were Mason. After some time and about a mile away from the ATV's they located Mason. The deputies' spouses began medically assessing and tending to Mason, they determined the cut was not the femoral but a different vessel."
They treated his wound and then began hauling the man to the only nearby place where a helicopter could land—atop an 11,300-foot mountain.
The social media post concluded, "At the landing zone, Mason received the care he needed from fully equipped medical personnel. The rescue team undoubtedly saved Mason's life. Mason and his family expressed their utmost gratitude for the lifesaving efforts he received."