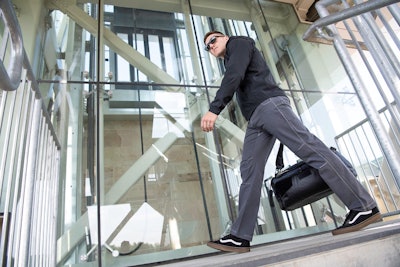 Vertx has announced the availability of the new men's Delta 2.0 Pant, designed for those who need flexibility, comfort, and good looks whether they are working an extended shift or spending some downtime with the family. Vertx says the Prepared Professional can be confident in his choice of the new Delta 2.0 pants as he loads the 12 strategically positioned and thoughtfully designed pockets with the assorted tools and devices he'll need for any variety of assignments. These twill pants feature the maneuverability of four-way stretch construction, and they're made to pair well with the full range of Vertx shirts for maximum functionality and minimum signature on the street.
"We've taken everybody's favorite pant and made it better," said Denny Bogard, GM/VP of Vertx. "Now you have more storage than ever with 5 more hidden pockets in our Delta 2.0. We've adjusted our fit to a more athletic modern cut to help you blend into your environment, while adding things like mesh pocket bags for increased air flow and breathability. If you like our original Delta Stretch pants, you're going to love our new Delta 2.0."
Critical features include a wide assortment of pockets. Two deep front pockets are constructed with breathable mesh and have an internal lanyard with keychain anchor points. Knife notches keep your blade out of the way but always at the ready. A zippered security pocket is easily accessible at the top of the front right pocket opening. Two tool pockets are located at the thigh, just left of the side seams, and are ideal for lighting and writing implements. Vertx says pickpockets will be frustrated by the two deep rear pockets with unique wallet traps built in to ensure security of ID, passport, and billfold. A pair of angled rear yoke pockets provide a snug and subtle location for smartphones, as well as back-up rifle mags. Judiciously placed mini stash pockets are located on the inside for small items you may need to keep pre-loaded for emergencies. All eight belt loops are fitted with a concealed DropLoop pass-through to allow discreet carry of flexible restraints or as reinforced attachment points for lanyards or other gear.
The 9.2-ounce 98% cotton/ 2% Spandex twill is enzyme-washed for a relaxed feel and streetwise appearance from day one. All heavy-wear seams are double-stitched and the full gusseted crotch allows a wide range of movement.
The new Delta 2.0 Pant is available in three colors—Tobacco, Shock Cord, and Spine Grey—in a wide range of men's sizes.
For more information and to obtain a list of authorized Vertx dealers, visit www.Vertx.com.