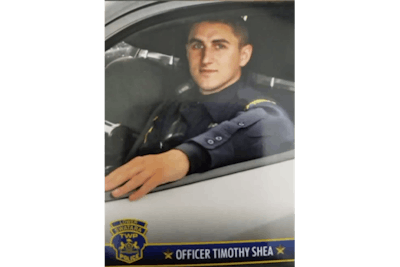 An officer shot responding to a domestic dispute call showed "great bravery" in the incident when he went back in the home to help the hostage inside, the county district attorney says.
Lower Swatara Township (PA) Police Department Chief Jeffrey Vargo said police were called to a domestic dispute in a trailer before midnight Monday. Vargo said a woman inside was being held against her will, reports Penn Live.
"Almost immediately upon entering the residence, the officers were met with gunfire," Vargo said. "One officer sustained an injury; he was shot in the leg."
That officer, Timothy Shea, put a tourniquet on himself and went back inside the home "in an act of great bravery," District Attorney Fran Chardo said.
"These were heroic efforts by these officers," said Chief Jeffery Vargo. "They ran towards gunfire to evacuate her from the residence," reports WPMT.
Vargo said that's when a "barricaded gunman" situation started. The Dauphin County Crisis Team responded and reportedly took Andrew Park into custody around 3:30 a.m. Tuesday.
Shea's injury is not believed to be life-threatening.
Park is facing charges of attempted murder and aggravated assault.