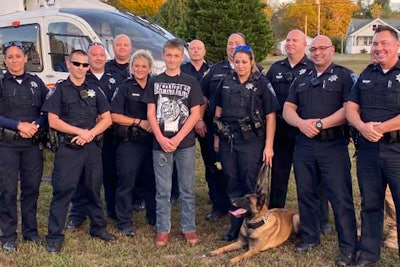 Several law enforcement agencies from Eastern Tennessee surprised a teen who aspires to be a police officer despite having cerebral palsy by dropping by his birthday party.
According to ABC News, officers from the White Pine Police Department, Dandridge Police Department, Jefferson County Sheriff's Department, Tennessee Highway Patrol, Tennessee Constables Association, and Cocke County Sheriff's Department surprised 14-year-old Caleb Sutton by showing up to his party, bringing with them a K-9 team and even a life-flight helicopter.
Also in attendance were Jefferson County EMS, White Pine Fire Department, Baneberry Fire Department, Lakeway Central Fire department, and North Hamblen Fire Department.
The boy's mother had dropped off an invitation at the White Pine Police Department for the event taking place the following day at a local park.
Officer Todd White and Officer Chris Buckner took it upon themselves to spread the word, and when the time came, the results were overwhelming.