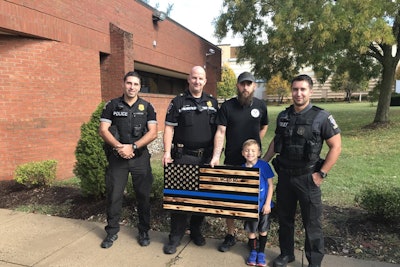 A local man recently made by hand a wooden representation of the Thin Blue Line Flag and dropped it off at the Montgomery County (MD) Police Department as a gift on National First Responders Day.
The agency posted a picture of James Shelton—along with his young son—standing with several officers holding the artwork with a message of thanks to the artist. The agency said that it would display the flag at its 5th District Station.
Then, Montgomery County Executive Marc Elrich intervened.
"The flag provides a symbol of support to some but it is a symbol of dismissiveness to others," Elrich said in a statement. "Because it is divisive, the flag will not be posted at the 5th District nor in any public space within the Police Department."