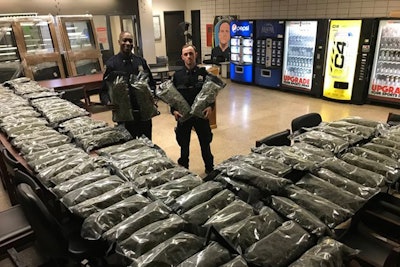 The New York Police Department posted an image on social media of two officers holding what appear to be giant bags of marijuana along with two tables covered in similar bags.
According to NBC News, NYPD detectives acted on a tip that a shipment of marijuana was due to be delivered to a FedEx facility and responded with a team of officers to intercept it.
Following that action, the agency said on Twitter that "Officers Greenidge and Ganshaw from the @NYPD75Pct used precision policing and relentless follow-up, along with a great working relationship with @FedEx and other local law enforcement officials, to confiscate 106 pounds of marijuana that was destined for our city streets."
However, the haul was legally grown hemp, not marijuana.
Commercial hemp was made legal in all 50 states under the 2018 Farm Bill, and this particular shipment from Vermont was intended for delivery to a CBD retailer in Brooklyn when it was seized.
The Vermont farmers who grew the product contacted New York Agriculture Commissioner Richard Ball to remedy the situation so their business transaction could be completed.