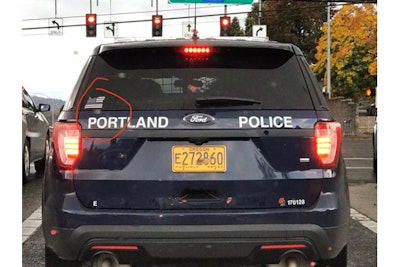 The Portland (OR) Police Department is investigating whether or not an officer with the agency is responsible for placing a Blue Line Flag sticker on the rear window of a squad car. If an officer did, in fact, apply the sticker, they may face possible disciplinary action.
According to Willamette Week, adding any visual markings or decals to a city vehicle is not allowed, and the Thin Blue Line flag on the rear window of the patrol car caught on camera at a traffic light qualifies as a violation of policy.
The question becomes, who put it there, and what disciplinary action might be taken.
Lieutenant Tina Jones, a Portland Police Bureau spokesperson, said that the agency doesn't know who placed the sticker on the car in part because officers share vehicles, and there's no way of telling whether or not the person who placed the sticker there was even an officer.