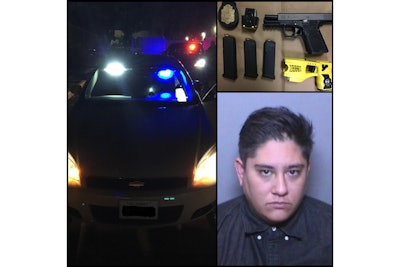 A woman who was stopped by Costa Mesa (CA) Police because her Chevy Impala had an unauthorized light bar and "CA Exempt" license plates was arrested early last week for impersonating a police officer.
The agency posted images on Facebook of the woman, her car, and the "duty gear" she was wearing the time of her arrest.
The woman—identified as 30-year-old Michelle Brianna Hughes of Huntington Beach—was wearing a tactical vest with a "POLICE" patch. Hughes was also wearing a law enforcement duty belt which had handcuffs, a fake law enforcement badge, a TASER, and a loaded unregistered handgun with a "high-capacity" magazine on her belt.
The agency said on Facebook, "Hughes identified herself to the arresting officers as a deputy for the Orange County Sheriff's Department. Hughes is not a law enforcement officer and was in possession of other police uniforms from other law enforcement agencies as well as other government exempt license plates. She was arrested for carrying an unregistered loaded firearm, being in possession of a high capacity magazine, and impersonating a police officer. She then bailed out."