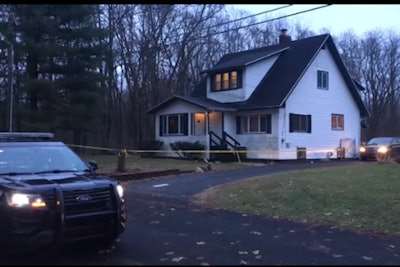 Three police officers were shot and a homeowner was killed Sunday after an intruder reportedly opened fire during a home invasion in Kalamazoo County, MI, according to the Detroit Free Press.
All three officers were hospitalized and are expected to recover.
The suspect was taken into custody as he tried to flee the home.
Kalamazoo County Sheriff Richard Fuller told News 8 that the Kalamazoo County Sheriff's Office received multiple 911 calls around 10 p.m. about an armed intruder in the residence in Comstock Township.
Christopher Ryan Lee Neal, 22, was watching television with his wife and child in their home Sunday night when an intruder broke in and took him hostage, Sheriff Fuller said Monday at a news conference.
Fuller said Neal urged his wife to take their child out of harm's way as the unidentified suspect held him at gunpoint. His wife reportedly was able to flee to another room, where she hid with the child and called 911, reports Fox News.
Fuller said police had been in contact with the suspect as well as the family in the house while en route to the scene before the shooting began, reports mlive.com.
Officials from the sheriff's office, Kalamazoo Department of Public Safety, and Michigan State Police responded to the scene—but before officials could initiate a full SWAT callout, authorities heard a gunshot from inside the home, according to Fox News. Officers charged into the house "to try and save lives," Fuller said.
Despite the suspect firing multiple rounds at the officers, law enforcement did not fire back out of concern a bullet could strike one of the innocent victims still inside the house. Fuller said that gutsy decision allowed the suspect to be taken into custody alive.
The Detroit Free Press said according to the agency's statement, "The Kalamazoo Department of Public Safety is very thankful that all officers survived the incident, and mourn the loss of the one victim. The officers acted courageously; and, as they are trained to do, they were able to rescue the two other victims."
Police are seeking to file murder, home invasion, unlawful imprisonment, assault with intent to murder and firearms charges against the suspect, Fox News reports.