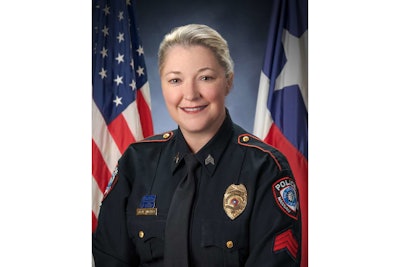 Sgt. Kaila Sullivan of the Nassau Bay (TX) Police Department died after being struck during a traffic stop around 8:30 p.m. Tuesday. The 16-year veteran was among a group of officers attempting to arrest a man wanted on a warrant related to a domestic violence case, Nassau Bay Police Chief Tim Cromie said. Police said that during the stop, the man managed to wrestle free from officers, get back into his vehicle, and then hit Sullivan as he drove away, reports the Houston Chronicle.
Sullivan was pronounced dead at the hospital.
The driver, later identified as 21-year-old Tavores Dewayne Henderson, is now facing a felony murder charge in Sullivan's death. Sullivan, 43, is the second Harris County law enforcement officer killed in the line of duty during the past week.
Henderson is still at large.
---
Related: Houston Police Officer Shot and Killed Over the Weekend
---
Early Wednesday, police surrounded Henderson's mother's home in Houston's Sunnyside neighborhood, believing the fugitive might be inside. After an hours-long wait, the heavily armed officers entered the home, but Henderson was nowhere to be found.
Authorities are now asking for the public's help in finding Henderson, who is known to have weapons, according to detectives.