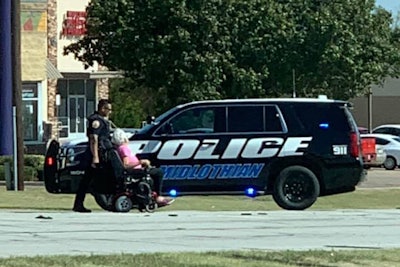 A passerby spotted an officer with the Midlothian (TX) Police Department helping a woman in a wheelchair cross a busy street, and the image she posted on social media quickly went viral.
According to CBS News, Officer Chris Douglas saw the woman attempting to cross the busy intersection and decided to stop his vehicle in the roadway to block traffic.
The person who posted the image to social media—Denise Jones DelVecchio—said in the caption of the photo, "Moments like this remind me why we moved to a small town. An elderly woman was waiting patiently to cross the busy street that runs down the middle of town. This officer spotted her, flipped on his lights, made a U-Turn and blocked traffic. Then he hopped out and escorted her across the street."