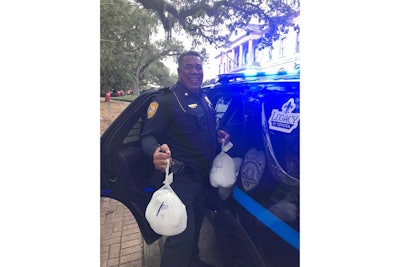 The Tallahassee Police Department is hosting a series of events aimed at bringing holiday cheer to the community, especially citizens who would otherwise not necessarily have holiday meals and presents on the tree.
The agency announced on its Facebook page, "During the course of the year, our officers and personnel work closely with organizations and individuals. We want to give back to the community and share the spirit of the season. We have twelve (12) projects we are organizing for each member of TPD to give back to the community. Each Bureau and several specific units have a special plan to help an organization or individuals in Tallahassee."
Late last week, "Santa" was paired with K-9 Copper while paying a visit to a number of locations and making random stops to interact with citizens.
In another effort, patrol personnel are providing needed items and gifts to families residing at a local shelter.
Other officers are collecting and distributing non-perishable food items. Others are hosting a holiday party and presenting gifts at a senior center.
The agency has a lengthy list of other efforts planned as Christmas Day approaches.