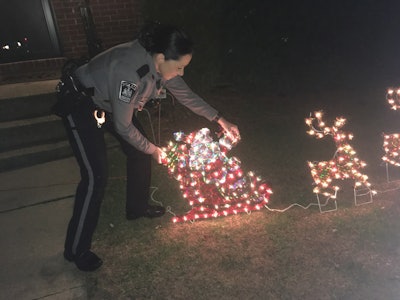 Officers with the Aberdeen (MD) Police Department were not going to let vandals ruin Christmas for a family whose front yard decorations were trashed earlier this month.
The agency posted images on Facebook of Officer Cynthia Mowery and several peers decorating a family's lawn in the middle of the night after having responding to a call of vandalism at that location a few hours earlier.
According to reports, vandals had destroyed an inflatable Santa in the front yard of a local resident, and Officer Mowery was dispatched to take a report.
Mowery told the Baltimore Sun, "When I was taking the report, I looked up and their [older] son was standing there looking out. It was so sad, he looked so upset, and that weighed on my heart all night. When I woke up the next morning, I just knew what I had to do."
She went to a local store, purchased new yard decorations, and organized a team effort among her colleagues to stealthily deploy the lawn ornaments in the middle of the night.
The social media post said, "Officer Mowery is passionate about those she serves. This is not the first time she has demonstrated an act of kindness that goes above and beyond the call of duty. Officer Mowery does not seek recognition for her good deeds but we had to share. Officer Mowery's actions are the definition of the true meaning of Christmas!"