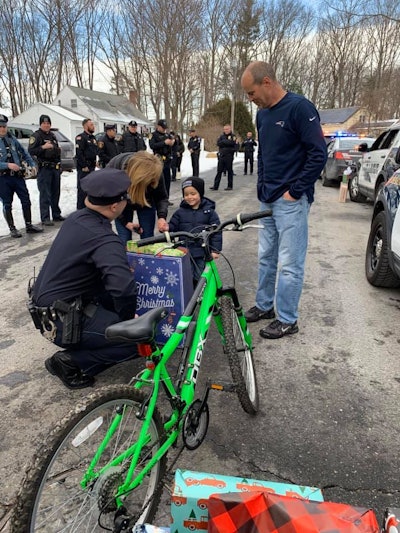 In November, 4-year-old Jaiden "JJ" Clifford's mother was stabbed to death. The Leominster, MA, woman's alleged killer was caught a week later.
Leominster Police Officer Dan Cantois wasn't content to let JJ's Christmas be blue.
He learned that JJ liked police and their cars and hats. And as President of the Leominster Police Association, Cantois reached out to neighboring police departments to help brighten JJ's holiday.
Officers from 10 police departments around the state, plus Massachusetts State Police, answered that call, and the departments decided to surprise JJ outside his grandparents' home, WHNT reports.
Some departments threw in gifts for JJ: Vincent Pusateri II, the city solicitor for Fitchburg, donated a bicycle, according to Fitchburg Police Department's Facebook page. Leominster Walmart donated toys, too.