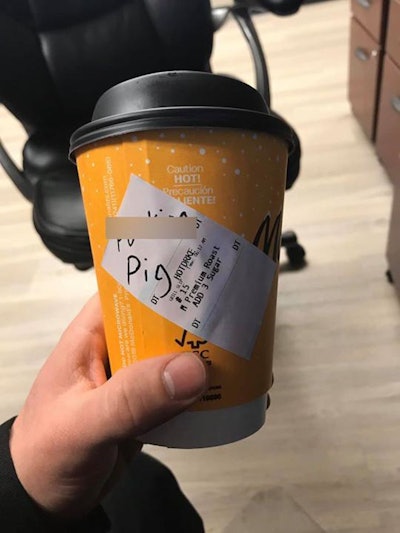 A Kansas police chief who called out a local McDonald's -- after one of his officers claimed he was served a cup of coffee with a vulgar and insulting message attached -- said Monday the officer has resigned after fabricating the incident.
Herington Police Chief Brian Hornaday confirmed the unnamed officer made up the story about being given a coffee cup with "F-----g pig" written on it. Hornaday said the officer told him the incident was "meant to be a joke."
"This was completely and solely fabricated by a Herington police officer who is no longer with our agency," Hornaday said during a Monday news conference.
Hornaday also said the unnamed officer was 23 and had been with the department for just two months. He called the incident a "black-eye for law enforcement" and said no criminal charges were expected to be filed, Fox News reports.