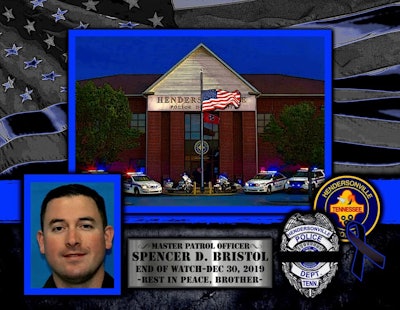 A Hendersonville, TN, police officer was killed Monday when he was struck by traffic during a foot pursuit on I-65.
Officer Spencer Bristol, 31, started pursuing a vehicle over a traffic-related offense in Hendersonville, and the chase went into Goodlettsville. The vehicle hit another car on I-65, and became disabled.
The passenger in the vehicle, unidentified at this time, ran off on foot.
That person ran across the interstate, and Officer Bristol chased after him on foot. When they crossed the median dividing wall, Bristol was struck by a vehicle. That driver stopped immediately, and Tennessee Highway Patrol says the woman who was driving was extremely distraught.
That suspect was able to escape officers due to the crash on the Interstate.
The driver, 19-year-old Kevin Jordan, was taken into custody immediately. He has been charged with evading arrest, reckless endangerment and received a misdemeanor cite for window tint, WSMV reports.
Hendersonville Police Chief Miller says Officer Bristol was a Navy veteran. He leaves behind a wife and three-year-old daughter, and was with Hendersonville PD for a little over four years.