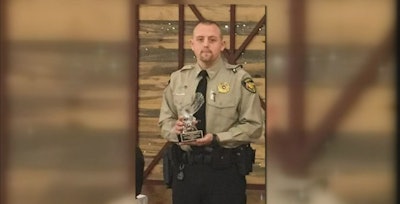 Authorities with the Panola County (TX) Sheriff's Office have identified the deputy shot and killed at an early Tuesday morning traffic stop as Deputy Chris Dickerson.
Chief Deputy John Depresca said Dickerson had been with the Sheriff's Office for eight years.
The fatal shooting happened about 1:57 a.m. Tuesday, Dec. 31, on Farm-to-Market Road 10, according to the Sheriff's Office and Staff Sgt. Jean Dark, of the Texas Department of Public Safety.
"Preliminary information indicates the deputy stopped a Chevrolet Tahoe on the northbound side of FM-10 when the driver suddenly exited the vehicle and fired a [semi-automatic rifle] numerous times at the deputy," says a statement from Sheriff Kevin Lake.
Meantime, the man accused of killing Dickerson — Gregory W. Newson — sped back to Shreveport. Shreveport police arrested the suspect Tuesday afternoon, KSLA reports.
Newson will be extradited to Texas, where he could face the death penalty if convicted as charged.
Court records show that Newson has a criminal record. Following are some of the more recent entries:
1992: He was sentenced to hard labor after pleading guilty to a charge of attempted possession of a firearm by a convicted felon
1995: Newson was sentenced to 17.5 years in prison at hard labor after pleading guilty to an armed robbery charge
2012: He served six months on probation after pleading guilty to possession of marijuana.