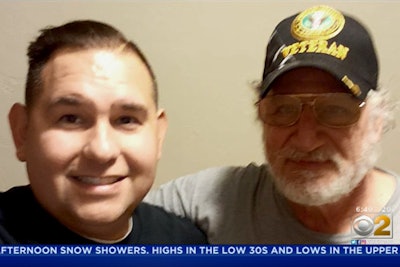 An officer with the Berwyn (IL) Police Department who had been sent on a welfare check of a military veteran down on his luck decided to go above and beyond the call of duty and organized an effort to collect a variety of goods the man needed.
According to CBS News, when Officer Edward Tovar met James Nicoletti it was clear that the military veteran—who was sleeping in a bathtub because he didn't have a bed and couldn't afford one—could use some help.
Officer Tovar began collecting household items from his own home that Nicoletti needed and word spread to his colleagues, who followed suit, bringing in furniture and other items.
Following a Facebook post about the effort, donations began to pour in from across the country.
Because Tovar's Facebook post included the fact that Nicoletti was unemployed, a local business offered him a job, where he has already begun work.
Home 2 Home Project—located in Countryside, IL—will fully furnish Nicoletti's apartment next week.
Chief Michael Cimaglia said on Facebook, "As the City of Berwyn Chief of Police I would like to say that I am proud of the efforts put forward by the brave men and women who went above and beyond the call of duty; serving and protecting while displaying compassion throughout their mission to help this Military Veteran who proudly served his country."