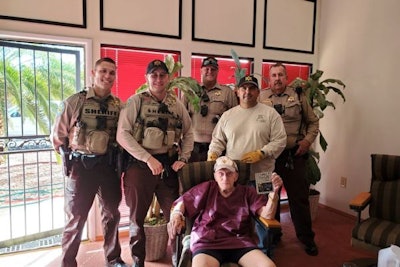 Deputies with the Maricopa (AZ) Sheriff's Office who conducted a welfare check on an elderly gentleman went out of their way to help him by repairing his home and bringing him groceries Friday.
The agency shared in a post on its Facebook page that on the call, deputies found out the man was living alone, had no family in the area, and had very little food in his house. They also "noticed a gaping hole in the ceiling of the bathroom, which exposed the interior of the home to the outside elements."
Deputies Vaughn, Castleberry, Jodat, and Bricklin; and Sergeants Madrid and Beeks returned to the home later that day "to bring food, patch the hole and present the gentleman with a Fry's grocery gift card."
The post goes on to say, "This was truly a selfless act of kindness demonstrated by our deputies and an opportunity to show how we can make great things happen when we come together as a community."
Fry's Food and Drug donated the gift card.