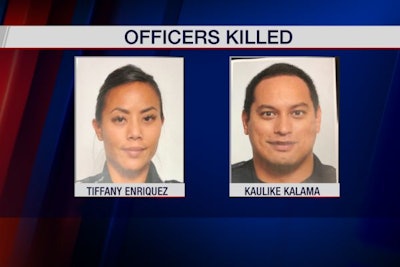 Officer Tiffany-Victoria Bilon Enriquez and Officer Kaulike Kalama have been identified as the two Honolulu (HI) Police Department officers who were shot and killed Sunday while responding to a stabbing call at a home near Diamond Head on the island of Oahu.
Honolulu police Chief Susan Ballard addressed the media at 5:15 p.m. Sunday about what she called a "selfish, senseless" act of violence that left two officers dead and three people unaccounted for, reports KITV.
Honolulu, Hawaii news, sports & weather - KITV Channel 4
Chief Ballard said it started at 9:40 a.m. when officers responded to a 911 call about a stabbing. Two officers arrived at 3015 Hibiscus Drive to find a woman stabbed in the leg. As they were walking up the driveway to the home, Chief Ballard said, the suspect fired and hit Officer Tiffany Enriquez, killing her. Enriquez, 38, was a seven-year veteran of the force who worked in the Waikiki district.
Honolulu PD then sent out more officers as backup, and as the second group was approaching the house, the suspect fired again and hit Officer Kaulike Kalama, killing him. Kalama had served with Honolulu PD for nine years, most recently assigned to the East Honolulu district.
---
Related: 2 Honolulu Officers Killed, 1 Wounded Responding to Call Near Diamond Head
---
Both officers were shot in areas above their ballistic vests, reports ODMP.org.
After shooting the officers, the man reportedly barricaded himself inside of his home and set it on fire. The flames spread to neighboring homes, destroying a total of seven residences. The man and two women were presumed dead in the fire, reports KITV.
The suspect in all of this is 69-year-old Jerry Hanel, now wanted on one count of first-degree murder, one count of second-degree assault, and "many counts"—according to Chief Ballard—of first-degree attempted murder. "We are almost certain his body is in the house," said Chief Ballard.
According to ODMP, Officer Enriquez was a U.S. Air Force Reserves veteran. In addition to serving with the Honolulu Police Department for seven years, she previously served with the Montgomery County (TN) Sheriff's Office. She is survived by three daughters and one grandson.