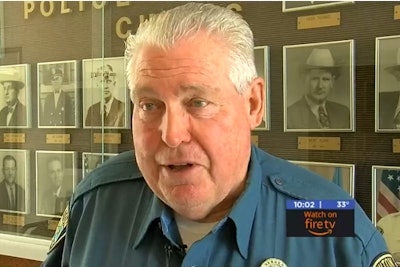 A longtime Lawton, OK, police officer is dead following a single-vehicle crash in Comanche County early Monday morning.
The accident happened around 11:00 a.m. at SE 165th, 1/10th of a mile south of Woodlawn, approximately 10 miles southeast of Lawton, in Comanche County, reports KFDX/KJTL.
Officials said Sgt. Claude (C.H.) Brazzel, 70, was driving a pickup truck northbound on SE 165th when the truck departed the roadway to the left, hit a ditch, and continued through a series of fences and a field before hitting numerous trees.
Officials said Brazzel was pronounced dead at the scene. They said he was not wearing a seatbelt.
Sgt. David Schucker told KSWO-TV of his colleague, "The bad guys even trusted him. So if you needed somebody, C.H. could go get him, and have him turn himself in no problems. He will be greatly missed. He was a great training officer when I was younger and he was great to work with even as an older man."
The cause of the incident is under investigation.