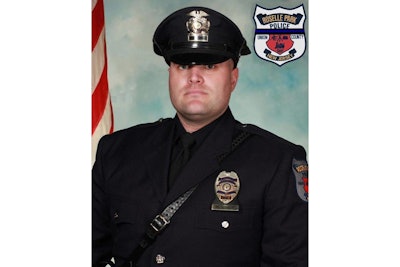 An off-duty New Jersey police officer fatally shot himself in the head after crashing his SUV into two parked vehicles—and as first responders were preparing to free him from the wreck, officials said.
The 39-year-old Roselle Park (NJ) Police Department officer lost control of his SUV about noon Sunday on Broad Street in Matawan and struck the two vehicles before partially rolling over, Chris Swendeman, spokesman for the Monmouth County Prosecutor's Office, told the New York Post.
"As first responders left the vehicle to get equipment to help with the extraction, the driver located a firearm and fatally shot himself," Swendeman said in an email.
The 13-year veteran was identified as Officer Edward Nortrup, a resident of Aberdeen, NJ.
Nortrup "removed a gun in his possession and fired one shot tragically taking his own life," Roselle Park Police Chief Daniel McCaffery said in a statement, adding, "We are grieving as a department for the loss of our officer."
He told the Post: "He was very well-received by all who encountered him."
Nortrup served in the Detective Bureau and was a member of the Union County Emergency Response Team, according to a post on the department's Facebook page.
He is survived by his wife and 15-month-old daughter, according to the Matawan-Aberdeen Patch.
Editor's Note: If you or someone you know has ideation of suicide or is approaching crisis, please know that the National Suicide Prevention Lifeline (1-800-273-8255), provides 24/7, free and confidential support for people in distress. Safe Call Now (1-206-459-3020) offers those services specifically for first responders.
On a website maintained by BlueH.E.L.P.—an organization that tracks officer suicides while simultaneously seeking to prevent such tragedies from occurring—a first responder need only enter a few data points—such as their location and what kind of assistance is needed—and the individual will be provided with a list of options for help from a searchable database dedicated to helping first responders find emotional, financial, spiritual, and other forms of assistance.