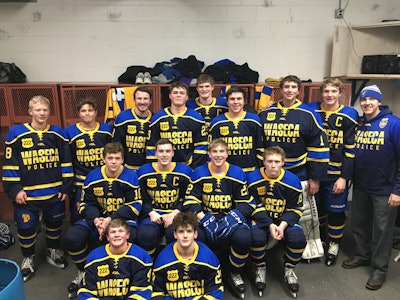 A high school hockey team in Minnesota that had hoped to honor an officer with the Waseca Police Department who was critically wounded in a shooting in early January by wearing jerseys bearing his name and badge number was disappointed to learn that their show of support was not supported by the Minnesota State High School League (MSHSL).
The Waseca boys hockey team were gifted the new jerseys emblazoned with the words "Waseca Police" and Officer Arik Matson's badge number on the front and his last name above each player's number on the back by a Minnesota company. The players had hoped to wear those uniforms for the remainder of their season, but league officials said that they could not wear them during game play.
The team posted on Twitter, "We have been notified by the MSHSL that these uniforms do not meet their policy for Special Recognitions, Commemorative or Memorial Patches. Waseca Boys/Girls will not be allowed to wear them for games. However we will continue to support Law Enforcement & Officer Matson."
The team said further that just like police officers, they will abide by the rules, but will continue to wear the jerseys honoring Officer Arik Matson during warm-ups.
MSHSL said in a statement, "The Minnesota State High School League and Waseca Public Schools deeply appreciate the involvement of the Waseca community, its boys and girls hockey programs and other athletic programs in honoring and supporting Officer Matson and the Waseca Police Department. The MSHSL and Waseca High School administration have been in communication this past week in identifying ways in which appropriate recognition can be demonstrated. This includes following the National Federation of High Schools uniform rules and policies which limits the size of alterations to commemorate individuals or events within competition."
Matson was able to sit up on the edge of a bed late last week and also had his breathing tube removed. He also received a care package from the Minnesota Vikings—a helmet signed by one of his favorite players, wide receiver Adam Thielen.