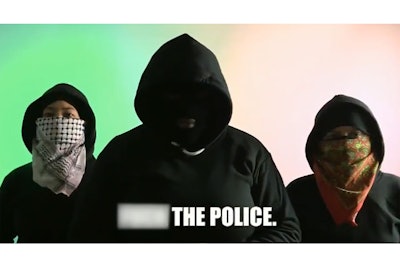 Members of the group Antifa joined with other anti-police groups in unleashing havoc on the New York City subway system on Friday, leaving in their wake vandalized stations, demolished turnstiles, and other property damage.
According to the New York Post, the agitators—who want police completely out of the subways and transit to be free—secured emergency gates open with bike locks, zip-ties and violin strings, rendered turnstiles useless with glue and spray paint and littered buses, stations and trains with "F–k cops" and "f–k MTA."
In a video posted to the Twitter page of a group called "Decolonize This Place" a masked man—flanked by two other masked men—asked like-minded people to "link up with your friends, your family and think of the ways you can move in affinity to f–k s–t up on J-31 all day long."
Mobs descended on the subway system early in the day and continued to march the streets with signs calling for "free fares" on public transportation. The crowd eventually spilled into the main hall of Grand Central Terminal, one of the busiest train stations in America, disrupting the travel of countless commuters.
The protests come as MTA and NYPD increase the presence of officers on subways and buses to combat fare evasion, sex crimes and attacks on transit workers.