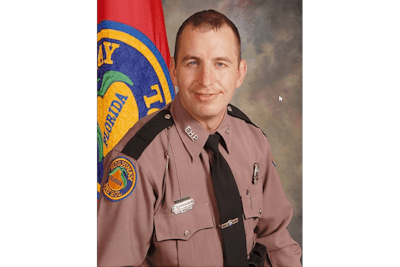 Florida Trooper Joseph Bullock was shot and killed on I-95 after he stopped to help a stranded driver who was reportedly upset by the tow truck fee he was asked to pay, reports the Miami Herald.
Law enforcement agencies investigating the shooting have not said what happened Wednesday morning on Interstate 95 near Palm City. But witnesses say it began when the stranded driver got into an argument with a tow truck driver, according to local media.
Related: Florida Trooper Shot and Killed on I-95, Stopped to Help Gunman
The gunman—identified by the Martin County Sheriff's Office as 28-year-old Franklin Reed III of Palm Bay—also was killed. He was shot dead by a passing police officer from Riviera Beach, a suburb of West Palm Beach.
The truck driver who was called to help with the stranded vehicle told witnesses the driver was "irate" at having to pay for a tow, according to WPTV in West Palm Beach. Reed then apparently pulled a gun. His gun reportedly jammed, giving the tow truck driver time to escape.
"There were six shots," witness Randy Pitino told WFLX. "I heard gunfire first, and then I saw gunfire back from the Riviera Beach officer."
The off-duty Riviera Beach officer who shot Reed was later identified as Jemel Headings.