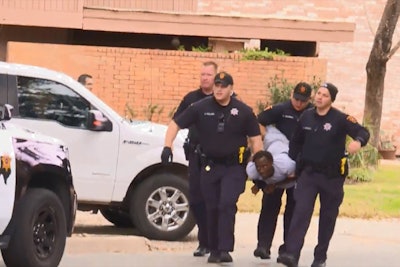 A man is now facing multiple charges after reportedly assaulting an officer with the College Station (TX) Police Department and damaging a patrol vehicle over the weekend.
According to KBTX-TV, the man—identified as 23-year-old Keith Cornell Pullin—had an outstanding warrant from another state when police found him hiding at a residence.
Officers put him under arrest and placed him in the back seat of a patrol vehicle. Pullin then began to kick at the partition between the front and rear seats, injuring one of the officers in the vehicle.
The officer was transported to a nearby hospital and treated for a substantial laceration.
Pullin is charged with assault on a public servant, escape causing bodily injury—both felonies—and several misdemeanor charges.