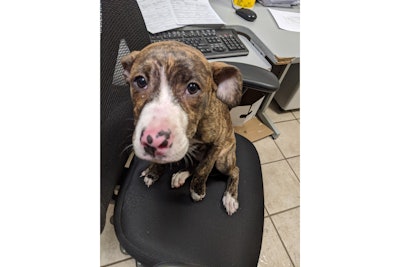 An officer with the Girard Borough Police Department who rescued a puppy from a couple now facing multiple charges has officially adopted the animal.
The agency posted on Facebook an image of the dog, which had been under the care of the Pittsburgh Veterinary Specialty and Emergency Center for surgery and treatment after officers responded to an abuse call last week.
The pit bull puppy named Mixy is now in the care of one of those responding officers. The tiny pit bull puppy was suffering from a severely broken shoulder and desperately needed medical attention when officers arrived.
The former owners—identified as Katherine Thompson and Dylon Curtis—now face charges of Aggravated Cruelty Against an Animal, Torture of an Animal, Neglect of an Animal, and Falsifying Information to Police.