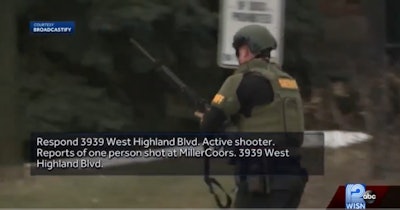 Five employees were killed Wednesday afternoon during an active shooter attack at the MillerCoors headquarters in Milwaukee, WI, said Milwaukee Police Chief Alfonso Morales at a press conference Wednesday night.
Morales said the gunman was a 51-year-old Milwaukee man who police found deceased from an apparent self-inflicted gunshot wound.
Morales said no other individuals were believed to be injured, but that an accounting of more than 1,000 people on the company's campus at the time of the incident was still underway.
No police officers were injured in the shooting, reports WISN.
The attack reportedly occurred in building 4 of the complex.
The Milwaukee Journal-Sentinel reports that emergency dispatch received the 911 call shortly after 2 p.m. Police and fire units, including paramedics, responded. The firefighters and paramedics wore ballistic vests.
Multiple law enforcement agencies responded to the MillerCoors campus, where more than 600 people reportedly work.
The nearby headquarters of Harley-Davidson was locked down as were local schools. The lockdowns have been lifted.
WISN reports that in a statement to employees, Molson Coors CEO Gavin Hattersley said the shooter "was an active brewery employee." Other sources said the suspected gunman had recently been fired from MillerCoors. It has not been reported what weapon or weapons the suspect used in the attack.