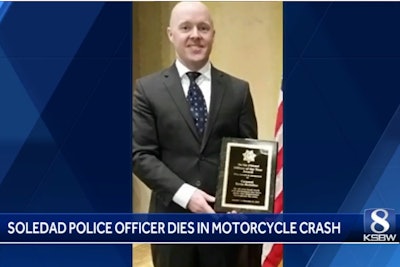 An officer with the Soledad (CA) Police Department was killed in a motorcycle collision while off duty early Sunday morning.
According to the San Jose Mercury News, 33-year-old Kevin McArthur was in the southbound lane of a freeway in San Jose in the early morning hours when the motorcycle he was riding veered into a concrete barrier.
McArthur was thrown from the bike, causing him to fall about 100 feet off an overpass.
Interim Soledad Chief of Police Damon Wasson told KSBW McArthur had been a part of the Soledad Police Department since 2014 and was a sergeant in the Army Reserve.
McArthur had been recognized two years in the row as 'Officer of the Year' and is survived by his parents who live in Salinas.