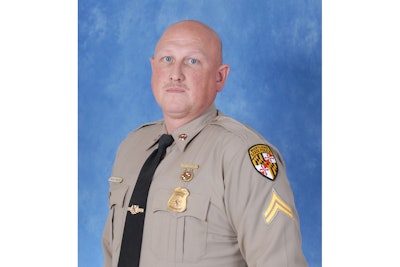 The National Law Enforcement Officers Memorial Fund (NLEOMF) has named Corporal David Wagoner of the Maryland State Police, as the recipient of its Officer of the Month Award for February 2020.
It was just after 2 a.m. on Nov. 17, 2019, when Corporal Wagoner heard the Frederick, MD, police dispatch for a single-vehicle collision on Interstate 70. First to arrive on the scene, the trooper noticed several bystanders on the shoulder of the road and an overturned vehicle. Inquiring as to whether anyone was still inside the vehicle, one of the bystanders commented "my friend is still inside."
Wagoner carefully made his way down an embankment to the overturned and burning vehicle. He managed to gain access to the rear passenger side window and noticed a man trapped between the front seats in the middle of the vehicle. He grabbed the man and pulled him from the vehicle.
The lower half of the man's body was on fire. Wagoner advised the victim to roll on the ground to extinguish the flames, but the flames proved too strong and persisted.
Wagoner retrieved a fire extinguisher from his patrol car and put out the flames on the man's burning body. He then dragged the man to safety just as flames from the vehicle were spreading to a nearby wooded area.
Fire and EMS arrived on the scene and transported the man to the Johns Hopkins University Bayview Burn Center as a "tier 1 trauma victim with burns." A review by medical professionals determined that had it not been for the quick actions of Corporal Wagoner, the victim would have likely succumbed to his injuries.
"Corporal Wagoner's training and quick actions, without regard for possible injury to himself, were nothing short of heroic," said National Law Enforcement Officers Memorial Fund CEO Marcia Ferranto. "His actions undoubtedly saved a man's life, making him a true hero and exemplifying what it means to be a law enforcement officer. It is my honor to recognize him as our February 2020 Officer of the Month."