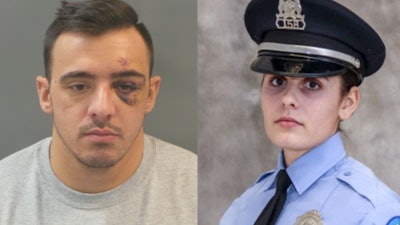 A former St. Louis police officer will serve seven years in prison for the January 2019 Russian-Roulette-style killing of fellow police officer Katlyn Alix.
Nathaniel Hendren, 30, pleaded guilty Friday to one count of involuntary manslaughter and one count of armed criminal action for the shooting death of Alix, 24.
He was sentenced to seven years for involuntary manslaughter and three years for armed criminal action, but will serve the sentences concurrently.
In April 2019, Hendren pleaded not guilty to the charges, but recently reached a plea deal with Circuit Attorney Kim Gardner's office, KSDK reports.
As part of the deal, Hendren and prosecutors agreed that the following facts could be proven at trial:
Alix and Hendren were both "dry-firing" their own guns at Hendren's apartment just before 1 a.m. Jan. 24, 2019. Hendren was on duty at the time; Alix was not.
Hendren, having previously emptied his revolver of cartridges, put one cartridge back in the revolver and began spinning the cylinder multiple times, each time checking to see where the cartridge landed.
After confirming the cartridge was not in the "live position," Hendren pointed the revolver down the hallway and pulled the trigger. It did not fire.
Alix then took the revolver from Hendren, pointed it at him and pulled the trigger. Again, it did not fire.
Hendren then took the revolver, and believing that the remaining cartridge was not in the active cylinder position, pointed the gun at Alix and pulled the trigger.
The third time, it fired, striking Alix in the chest.
In October 2019, Katlyn Alix's family filed a wrongful death lawsuit against Hendren, his partner that night, officer Patrick Riordan, who was also in the apartment, the police sergeant on duty, and the City of St. Louis.