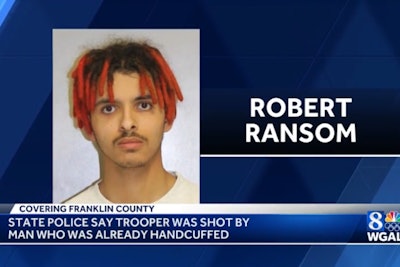 A man is charged with two counts of attempted murder of a law enforcement officer among several other charges after shooting a Pennsylvania state trooper during a traffic stop around 2 a.m. Saturday, according to court documents.
According to an affidavit of probable cause, the state trooper—identified as Trooper Jason Brindle—was shot in the pelvic area during a struggle with Robert William Ransom, 20, who had already been patted down and had his hands cuffed behind his back when the gunshot occurred, reports the Record Herald.
The state trooper was flown to a local hospital, state police said in a release on Saturday. The other trooper at the traffic stop suffered a knee injury, reports WGAL.
The incident began as two state troopers were on routine patrol in a marked vehicle when they saw a sedan traveling at an unsafe speed on Lincoln Way East in Guilford Township, according to the affidavit.
According to the affidavit, the troopers initiated a traffic stop, and both troopers reportedly smelled marijuana. One trooper patted the suspect down for weapons but found none, and one of the troopers administered a field sobriety test, which the suspect failed.
When trying to take Ransom into custody, he began to resist arrest. Troopers were ultimately able to handcuff him, but as they attempted to put him in the back seat of the patrol vehicle, one trooper was shot in the pelvis, according to the affidavit. The trooper who had not been shot then saw Ransom had a silver gun in his hands as they were cuffed behind his back, according to charging documents. That trooper reportedly grabbed the gun, threw it aside, and tackled Ransom on the ground before backup troopers arrived on the scene.