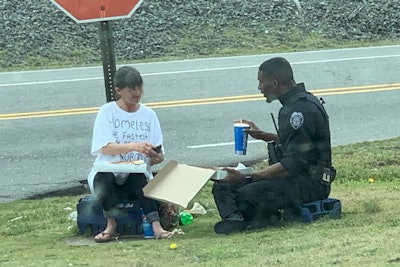 An officer with the Goldsboro (NC) Police Department was recently seen sitting with a homeless woman and sharing a simple meal of pizza.
According to NBC News, Officer Michael Rivers was on patrol when he observed the woman sitting beside a road. He stopped his squad car and began to talk with her, asking eventually if she had eaten anything that day. She replied that she had not.
Rivers briefly departed and got personal pizzas from a nearby restaurant, returned to the woman's location and sat down on the grass next to her as they ate. The event was captured in a photo by a passerby and posted on Facebook.
The post has since garnered nearly 1,000 likes and more than 3,000 shares.