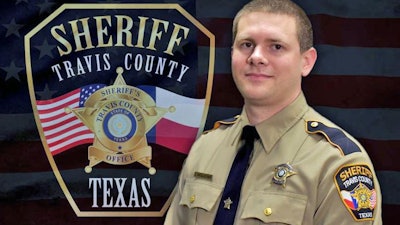 A Travis County, TX, sheriff's deputy was killed Wednesday in an on-duty vehicle collision.
The deputy, identified as Sr. Deputy Christopher Korzilius, 32, was assigned to the vice unit and was driving his unmarked unit, a Ford Escape, at the time of the collision, KVUE reports.
The Texas Department of Public Safety says an Infiniti was traveling west on FM 2244 when it veered into the eastbound lane and struck the unmarked Ford Escape head on.
The crash caused the Ford, driven by Sr. Deputy Korzilius, to be vaulted over a guardrail and down an embankment.
The crash is being investigated by the DPS, assisted by the Travis County Sheriff's Office Highway Enforcement and Accident Team.