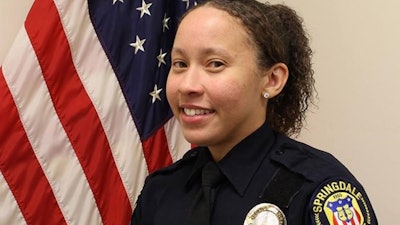 A Springdale, OH, police officer was killed and another officer was injured Saturday when a suspect's vehicle "purposely" crashed into their patrol vehicles during a pursuit while they were trying to deploy spike strips, police said.
Officer Kaia Grant, 33, was killed in the crash. She was taken to UC Hospital by Aircare, and was pronounced dead at the hospital.
Sgt. Andrew Davis was injured in the crash and was taken to UC West Chester Hospital. He has been released.
Police told WLWT the chase began around 8:30 p.m. Saturday, when officers from another agency started chasing a car that was making its way onto I-275 westbound at State Route 4. The suspect was reportedly wanted on a felony warrant.
Police said during the pursuit a vehicle driven by the suspect, Terry Blankenship, crashed into two Springdale police vehicles, killing Grant and injuring Davis.
Springdale Police spokesperson Officer Keenan Riordan told the press, "It's our belief that Mr. Blankenship purposely diverted his course of travel to purposely strike our officers."
The suspect is in the hospital in serious condition and is in police custody. A firearm was recovered from the scene, police said. Charges are pending upon his release from the hospital.