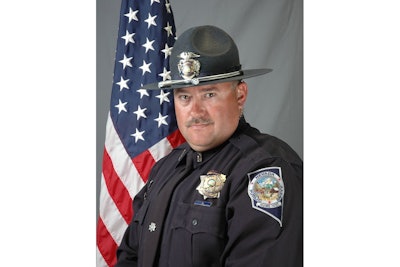 A Nevada Highway Patrol trooper was shot and killed Friday morning after stopping to help a motorist on U.S. 93 near Ely.
There was apparently a shootout between the trooper and the motorist around 5:45 a.m., sources report.
NHP has identified the fallen trooper as Sergeant Ben Jenkins.
A suspect is in custody after a manhunt involving multiple agencies. His identity has not been released, KMVT reports.
NHP reports on Facebook that the suspect "stole the Sergeant's uniform and fled the scene in Sgt. Jenkins' patrol vehicle."
The Associated Press reports the male suspect was apprehended after 10 a.m. not far from the Lincoln County line, and materials identified as possible explosives were found, said Lincoln County Sheriff Kerry Lee, whose deputies were involved in the manhunt.
Lee told the AP the suspected cop killer had multiple weapons and was previously known to law enforcement officers. The sheriff said he could not immediately provide a motive.
Sgt. Jenkins, 47, was an Elko native. He joined the Highway Patrol in 2008 and was promoted to Sergeant in Elko in 2017.