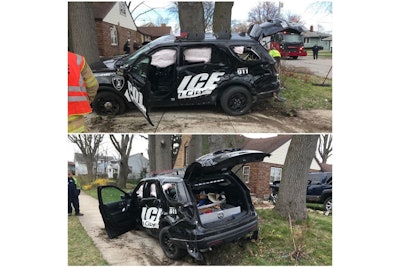 An officer with the Michigan City (IN) Police Department was injured when his patrol vehicle was struck by another motorist, causing both cars to leave the roadway on Thursday afternoon.
The agency posted on Facebook, "Detective Scott Combs, the driver of the police vehicle, was transported to an area hospital via ambulance with non-life-threatening injuries.
The driver of the civilian vehicle involved in the collision—identified as 35-year-old Michael Johnson—was uninjured.
Based on the preliminary investigation, Detective Combs was on duty traveling westbound on Tremont Street. Detective Combs was not responding to any calls and did not have his police lights or siren activated. While approaching an intersection Johnson failed to stop for the stop sign posted there and collided with Combs' police SUV, police say.
Detective Combs is a seven-year veteran of the Michigan City Police Department and is currently assigned as the School Resource Officer for the MCAS middle schools.
He is expected to recover.