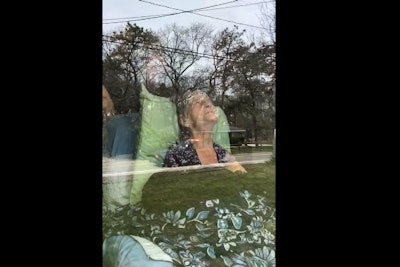 Video of the emotional response by an elderly woman to the kind act of firefighters' and police officers' "drive-by parade" has gone viral on social media.
The woman in the video—Adele Ambrose—recently celebrated her 91st birthday and first responders wanted to show their gratitude for all she has done for them for more than four decades. For 40 years Miss Adele Ambrose cooked Thanksgiving dinner for first responders in her area.
So they organized a "drive-by parade" of fire apparatus and police patrol vehicles past her home in Flanders, New York.
A video of the woman—who lost her vision to a massive stroke last year—was captured by her niece, Mary Lou Ambrose. The video—shot from outside Ambrose's home—shows the elderly woman's emotional response as the parade of first responder vehicles pass by with lights and sirens activated.
The first responder vehicles are visible in a reflection in the window as tears run down her face.
The New York State Police shared the video on its Facebook page, and it quickly went "viral" with more than 236,000 views in just a couple of days.
The agency said in the post, "Always special when you can say thank you back. For 40 years Miss Adele Ambrose cooked Thanksgiving dinner for Troopers at the Hamptons Bay/Riverside barracks. She just celebrated her 91st birthday. We were proud to be a part of her parade after all she has done for us."