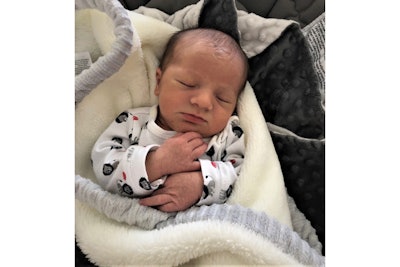 A Massachusetts State Police trooper helped deliver his baby on the side of a New Hampshire highway in late April.
According to Fox News, Trooper George D'Amelio was on duty when his wife called to tell him she was going into labor. He quickly went home to pick her up and started driving to a hospital in New Hampshire.
While en route, D'Amelio had to pull his car over on a major highway in Bedford, New Hampshire, and deliver his son.
The Massachusetts State Police posted news of the delivery earlier this week, saying, in part, "We want to thank Troopers Mark Dore and Brad Pierson of the New Hampshire State Police, along with members of the Bedford, N.H. Fire Department, who assisted Trooper D'Amelio in the delivering of his child. Congratulations Christine and George! Baby Jackson "Jack" D'Amelio is doing great. What a little Trooper!"