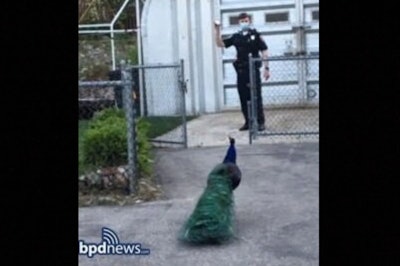 Officers with the Boston Police Department captured an unusual fugitive on Monday morning after reports that an exotic bird had escaped from the local zoo.
According to MassLive.com, a very large male peackock had escaped from Franklin Park Zoo, causing several citizens in the nearby area to alert police.
One of the officers used a "mating call" from his mobile phone to lure the bird into a fenced-in yard.
Boston Animal Control took the bird back to the Zoo, which has been closed since March due to the Coronavirus—COVID-19—pandemic.