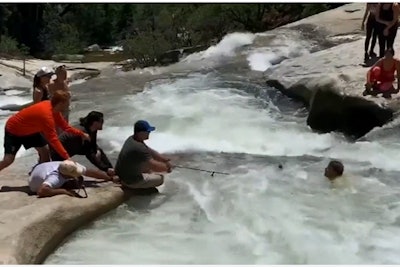 An off-duty officer with the California Highway Patrol used intuition and improvisation to rescue a man who had fallen into a cold river along the Willow Creek Trail within the Sierra National Forest over the weekend.
According to KFSN-TV, Christina Donley filmed the dramatic water rescue by her husband, Brent Donley.
Donley said, "A lady approached me and said, 'Hey, do you have a rope?' And I said, 'No, I don't have a rope,' and she explained to me there was somebody in the water that was about to go down the waterfall."
Donley quickly fashioned a rescue rope from the straps on the backpack he was wearing and he—with the assistance of a number of other people—was able to pull the man from the cold water.
The man was transported to a nearby hospital for treatment.