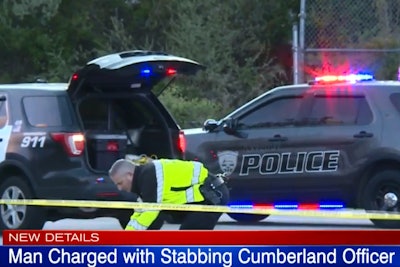 A man is facing assault charges after attacking and stabbing an officer with the Cumberland (RI) Police Department over the weekend.
According to WPRI-TV, the subject—identified by police as 24-year-old Brennan Matthew Cronin—is accused of stabbing Officer Michael Petrarca at a local high school on Saturday.
According to Cumberland police, Petrarca was patrolling the area when he saw a man going through trash cans. After approaching and speaking to the man, Petrarca radioed dispatch to run a warrant check on him, which revealed he was not wanted.
Another Cumberland officer investigating a report of a man acting strangely at a nearby business then radioed Petrarca and asked what Cronin was wearing. As the description was relayed, Cronin tried to flee on foot.
Officers gave chase and in a confrontation Petrarca reportedly stabbed one of them in the thigh.
The officer was transported to a nearby hospital where he was treated and released.
Cronin now faces charges of felony assault and assault on a police officer.