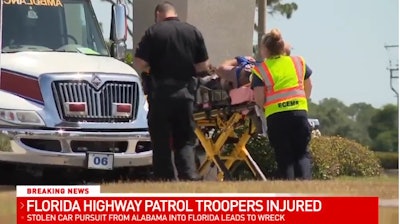 A Florida Highway Patrol trooper was extricated from a vehicle Tuesday morning after a vehicle pursuit crash near the Alabama-Florida state line.
An Alabama State Trooper was chasing what was believed to be a stolen vehicle. The vehicle crashed into a semi and the suspect fled. He was captured and not hurt.
FHP told WEAR that in the process, a car with Florida State Troopers inside was hit . One trooper was extricated, while both have been sent to the hospital and have non life-threatening injuries.