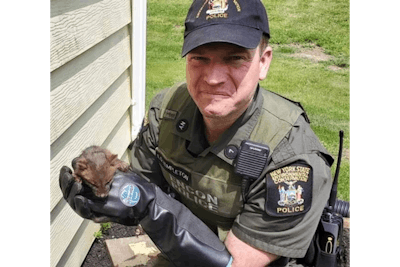 Environmental Conservation Police Officers have been busy assisting many animals—ranging from a fox stuck in a window well to Mallard ducklings that fell into a storm drain and even a wandering bear in the city of Poughkeepsie.
According to NewYorkUpstate.com, the agency has posted to social media pictures of a variety of animal rescues in the past month.
For example, ECO Eric Templeton responded to the town of Nichols to investigate a report of a young fox kit stuck in a window well. Upon arrival, ECO Templeton was informed the baby fox had fallen into one of the homeowner's window wells and had been there since the previous day.
The homeowner had placed a board into the window well, but the baby fox was unable to climb out.
ECO Templeton put on his protective equipment, recovered the fox, and transported the animal to a wildlife rehabilitator in Ithaca.
In another incident earlier this month, ECO Don Damrath and Geddes Police Officer Mike Sheppard reunited 15 Mallard ducklings with their mother after the ducklings fell into a storm drain at a busy intersection.
Officers also recently rescued a wayward bear that had wandered into a residential neighborhood.