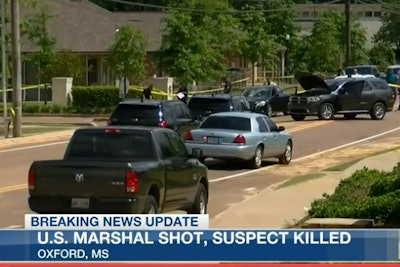 A US Marshal was shot twice in a gunfight with a murder suspect from Arkansas following a vehicle pursuit.
According to WLBT-TV, the suspect—identified as 33-year-old Hunter Carlston—was killed in the gunfight in Oxford, MS. Carlstrom was wanted in connection with the May 7 murder of James Sarotelli.
Carlstrom reportedly stopped his car, got out and began shooting.
Officers attempted to perform CPR on Carlstrom after he was shot but he was pronounced dead on the scene.