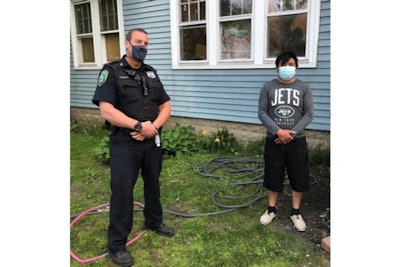 An officer with the Riverhead (NY) Police Department saved a man trapped when the car he was working on slipped off a jack and on Sunday evening saved a man who was choking on food and unable to breathe.
According to RiverheadLocal.com, Michael Lombardo was able to use a car jack to free a man who had been trapped under a vehicle that he had been working on when the jack that held it up collapsed on Sunday.
Later that day Lombardo was first on the scene to a home where a choking man was in distress.
Lombardo performed the Heimlich maneuver on the victim several times and dislodged the piece of food stuck in the man's throat.
The Riverhead Police Department praised Lombardo, a 25-year veteran with the department, for his excellent work in both incidents.