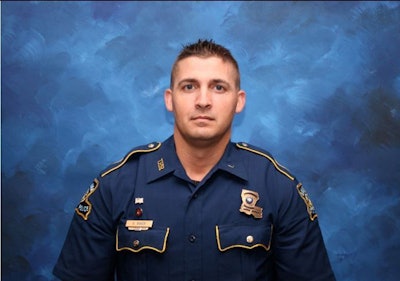 The Louisiana State Police is mourning the loss of one of its troopers who sustained severe injuries while responding to a vehicle pursuit last week.
Trooper George Baker was among several officers who were helping officers with the Hammond (LA) Police Department stop a vehicle that had reportedly fled a traffic stop early Wednesday morning. Baker had placed spike strips in the road, which disabled the fleeing vehicle, but as he was retrieving them from the road he was struck by a Hammond PD vehicle, seriously injuring him.
The agency said on Facebook that immediately following the accident, a "vigil of family, friends, and his fellow Troopers remained at the hospital from the very beginning until his passing."
The social media post concluded, "Trooper Baker had a lifelong desire of becoming a Louisiana State Trooper. In preparation for that goal, he spent 8 years in the United States Marine Corps Reserve including one combat deployment in the Middle East. He began his law enforcement career with the Greensburg Police Department, where he worked for 4 years. He then served the St. Helena Parish Sheriff's Office for 3 years before joining the Louisiana State Police."
Trooper Baker, 33, was a 10-year veteran with the agency. He is survived by his wife, their young daughter, his parents, his sisters, and his extended family.