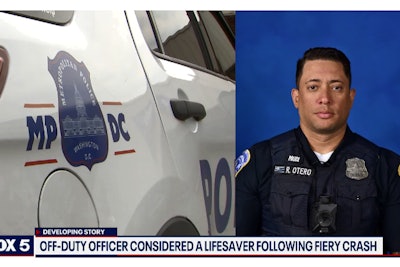 An off-duty officer with the Washington DC Metro Police Department was en route home after his shift when he came upon a vehicle wreck in suburban Maryland. He quickly leaped into action, extracting the driver from the burning pickup.
According to Fox News, Officer Reinaldo Otero used a crowbar from his vehicle to pull the door open on the burning pickup truck and pull the driver to safety and then used his department-issued handheld radio to call the incident in to the Montgomery County (MD) Police Department.
"I have one male severely injured. He is out of the car, the vehicle is on fire. Be advised I need more units.... he is conscious and breathing he has a broken leg, possibly ribs and difficulty breathing," he said.
Fire, police, and EMS units responded as Otero and a civilian motorist who also stopped at the scene provided medical aid.
The driver of the puck-up truck—whose name has not been released—was then transported to a nearby hospital where he is presently listed in critical condition.