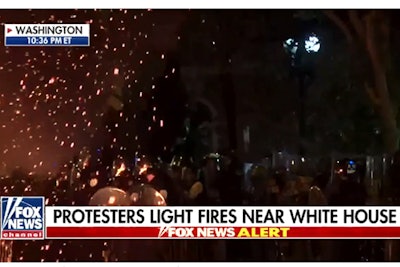 Following the in-custody death of George Floyd in Minneapolis a week ago, protesters have transformed into rioters, lighting fires, destroying buildings, and injuring police officers attempting to quell the disruption and protect innocent business owners and citizens from the increasing unrest.
According to Fox News, numerous agents with the United States Secret Service were injured as rioters lit fires and threw objects just outside the White House gates and authorities were searching for car bombs late Sunday as protests over the death of George Floyd continued to roil the capital just two days after President Trump had to be taken to a bunker for his safety.
An officer with the Chicago Police Department suffered multiple broken bones—and dozens of others were injured—as rioters unleashed mayhem on the Windy City.
In Davenport, IA, one officer was shot in an ambush attack as they were responding to a public disturbance ostensibly due to Floyd's death in Minnesota a week ago. That officer is "doing well and in pretty good spirits," according to the Des Moines Register.
In Boston (MA), a police patrol vehicle was set on fire and at least seven officers were injured while responding to violence in the streets caused by people outraged over Floyd's death. Massachusetts State Police and the National Guard were in the city to back up the Boston officers, mainly in the area of Boylston, Newbury and Arlington Streets.
In Jacksonville (FL) an officer's neck was slashed with an edged weapon during a riot that erupted in that city on Saturday night. The condition of that officer has not yet been released.
Meanwhile, an officer with the Atlanta (GA) Police Department was struck and injured by a subject who was reportedly drunkenly driving an off road (ATV) vehicle. That officer is said to be recovering at a nearby hospital.
In Salt Lake City (UT), 21 police officers were injured while responding to rioters who stormed the streets over the weekend—one police patrol vehicle was overturned and covered in spray-painted graffiti.
In New York City, at least 33 police officers have been injured and 47 police vehicles damaged in demonstrations held in Brooklyn and other neighborhoods throughout the Big Apple.
Mayors of many major cities—including Chicago, Los Angeles, San Francisco, Miami, Minneapolis, and Atlanta, as well as several others—have imposed mandatory curfews to quell the violence and protect first responders.
The total number of officers nationwide to be injured in the weeklong rioting remains unclear, and the destruction of property is estimated to be multiple millions of dollars. An untold number of rioters have been arrested for failing to comply with commands to disperse, and numerous otherwise-peaceful protesters have been injured by those who have turned violent during public gatherings.
According to CNN, at least six civilians have been killed in violence connected to the upheaval.
President Donald J. Trump held a conference call Monday with a number of state governors urging them to crack down on the upheaval that has occurred in cities across America.
In the video teleconference held from the White House Situation Room the President said, "You have to dominate or you'll look like a bunch of jerks, you have to arrest and try people."